Office Tenant Improvements
RCG's tenant improvement experience is extensive as we provide structural engineering services for office buildings throughout the San Francisco Bay Area.  Clients include architects, tenants, building management companies and ownership entities (e.g. CBRE, JLL, Paramount Group, Divco West, Equity Office, Hines, etc.).  Tenant improvements may include installation of high density mobile file systems, libraries, server rooms, safes, sliding/folding door supports, circulation stairs, HVAC equipment, ceiling cloud features, soffits, glass walls, lighting and lobby renovations.
Floor loading associated with high density filing systems, libraries, server rooms, and safes may exceed floor design live loads several times.  Existing floor construction (e.g. concrete-filled metal deck, beams and girders) must be evaluated for adequacy to support these heavy loads.  Where floor capacities are exceeded, strengthening strategies can be developed to increase capacity.
Circulation stairs are often introduced to add convenience for staff access between adjoining floors.  Stair designs may be utilitarian or incorporate unique design features (e.g. suspended tread and risers without stringers).   Our services include framed floor openings, stringer/tread/  riser designs, handrails, guardrails and all necessary floor support members.
We can assist the architect in the design of other tenant improvements such as special light gauge framing designs for suspended soffits, ceiling cloud features, and light fixtures.  Mobile partitions including Skyfold type partitions, typically require the design of secondary framing to vertically and laterally support track systems.
The installation of HVAC equipment suspended from the floor above typically requires the design of  secondary support framing (Unistrut, etc) , and may incorporate spring isolation devices to minimize transmission of vibrations and noise.
Representative Projects
60 Spear Street Lobby Renovation
McDonough Holland & Allen PC, 500 Capitol Mall, Sacramento, CA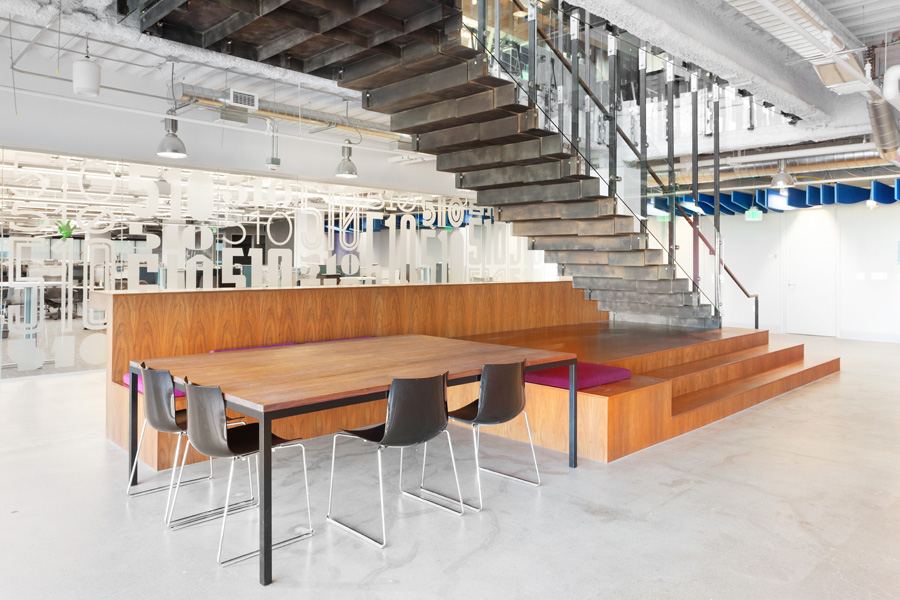 Pandora, 2100 Franklin St, Oakland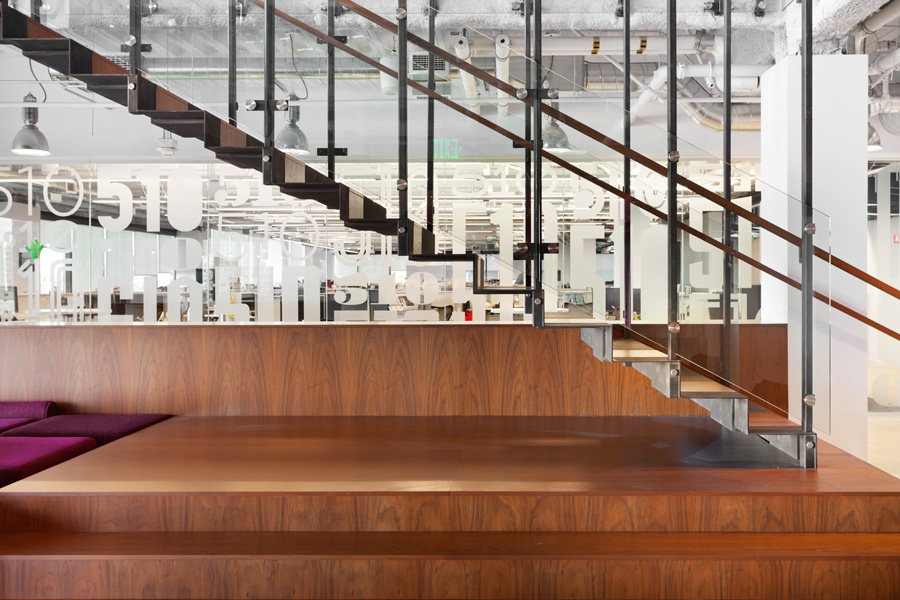 Pandora, 2100 Franklin St, Oakland